Paragliding
in Davos Klosters
Feeling free as a bird and flying in circles across the sky – paragliding is the perfect way to make this dream come true. The updraft takes you up to awe-inspiring heights, and a fantastic view of the surrounding mountains of Davos Klosters awaits you. Because from a bird's eye view, the Alpine scenery shows itself from its most spectacular side. This special experience in the nature is bound to make you gasp in amazement!
Davos Klosters is a real highlight for all paragliders: Thermal flying with an upwind in winter is considered uniquely reliable here.
In the mountains of Davos Klosters, there are many beautiful starting points for experienced paraglider pilots. The conditions are perfect, and you'll have countless opportunities for flights in summer and in winter. On Jakobshorn and on Parsenn Gotschna, you can go paragliding year-round. During operating hours, the cable cars take you up the mountains and directly to several starting sites. Paragliding enthusiasts also benefit from special rates at the ticket offices of the valley stations.
The tandem flights experience
A tandem flight is definitely a special experience. Expand your horizon during a flight with an experienced paragliding pro in the mountains of Grisons! And the best part: You don't need any previous experience for this one-of-a-kind adventure. Just lean back and let the pro take care of the rest! The view from high up in the air is simply stunning – and you might even be able to steer the glider yourself for a brief moment. A fantastic feeling and an experience you'll remember for a long time to come – and not just because of the souvenir photo you'll receive afterwards.
Starting and landing locations
On the mountains and in the valley
Davos Klosters is an ideal area for paragliding year-round. What makes it so unique? Great conditions, good thermal uplift, easy landing sites, and mountain railways that comfortably take you up to the most beautiful take-off locations.
Jakobshorn
Jakobshorn is known as the "flying mountain" among paragliding fans. From the various launch sites, you can take off in almost all directions. Whether you're a seasoned pro or a beginner practicing your skills, Jakobshorn has something to offer for everyone.
A highlight: Soaring, top landing and ground handling in the valley wind at Brämabüel (Red-White). This site is unique for flying in the dynamic wind close to the mountain area.
Parsenn Gotschna
Parsenn Gotschna boasts several excellent starting points. Whether you take the funicular from Davos Dorf or the Gotschna cable car from Klosters: Most of the launch sites are easily accessible by mountain railway and a short walk.
Flight schools
In Davos, there are several flight schools where you can book a tandem flight and thus an unforgettable experience. Well-trained and experienced pilots check the conditions in the mountains and make sure that you have a safe and exciting flight. They will also inform you about safety measures and all prerequisites. You can also participate in training courses including supervised flying lessons at these schools. Once you have a license, you're all set and you can embark on your adventures high above the Grisons mountains.
Brämabüelstr. 9 | 7270 Davos Platz (right at the foot of the Jakobshorn)
Tandem flights in Davos & Klosters
Promenade 87 | 7270 Davos Platz
Flight training, rental equipment & paragliding shop
Dorfplatz 4 I 7215 Fanas
Flight training, rental equipment & shop in Klosters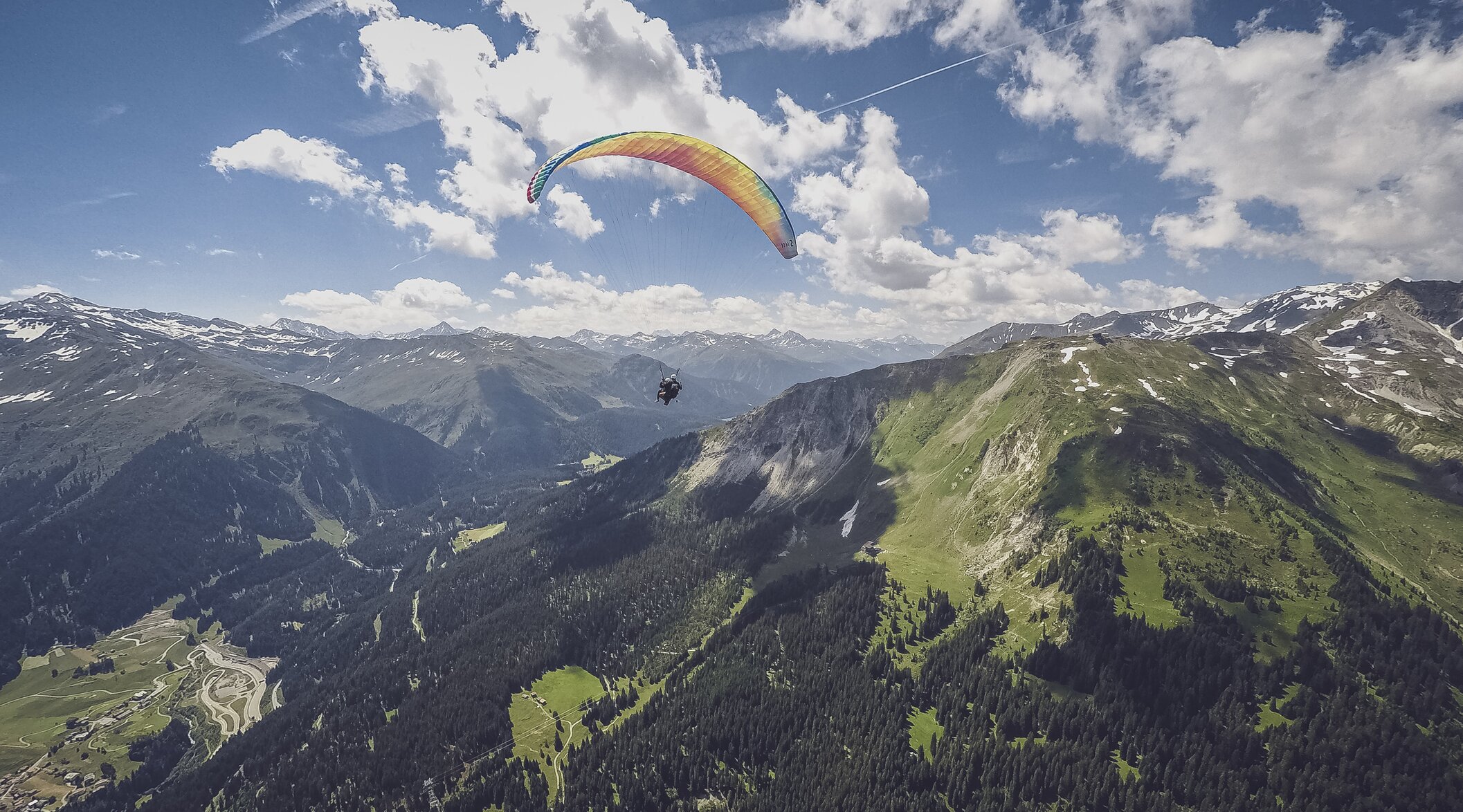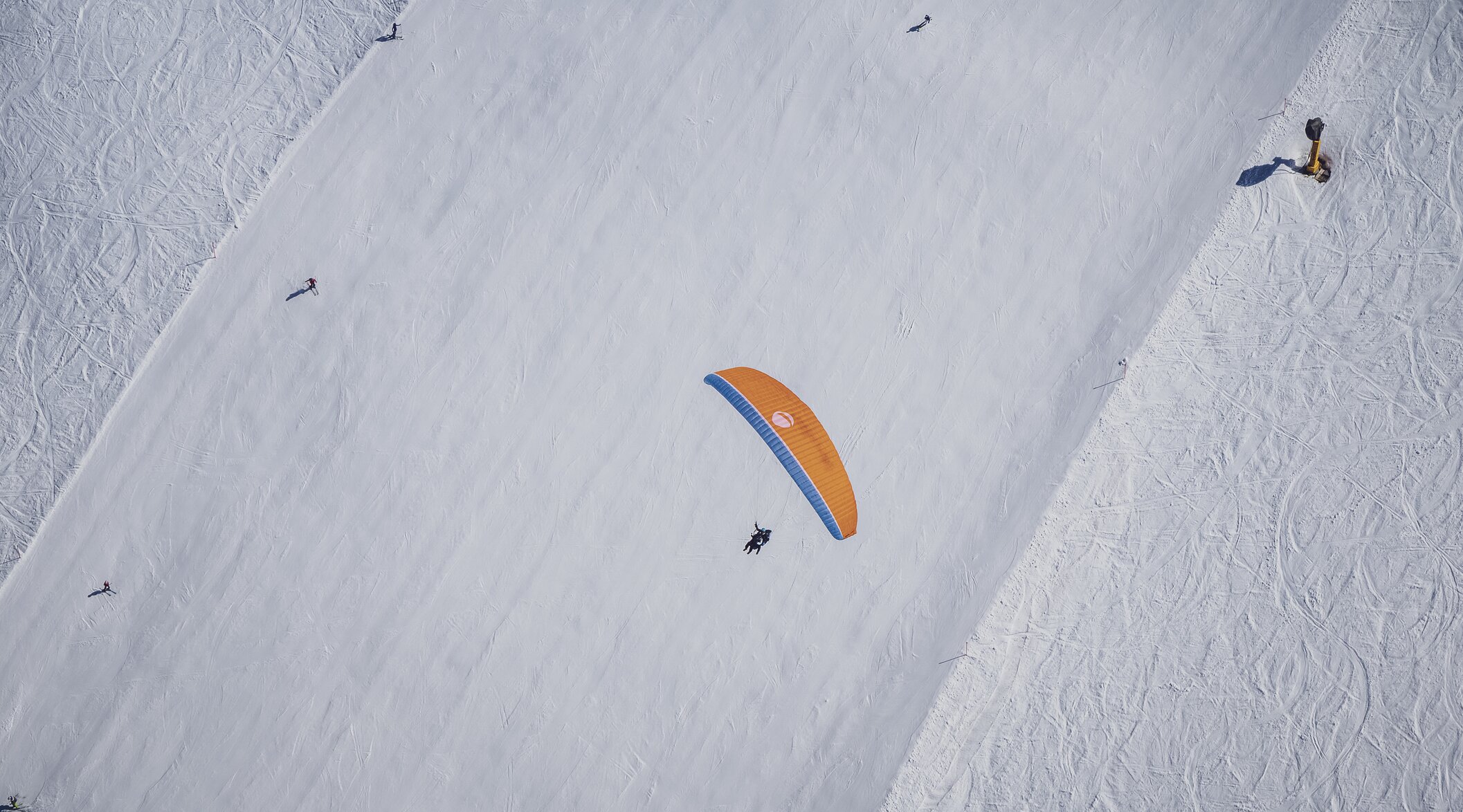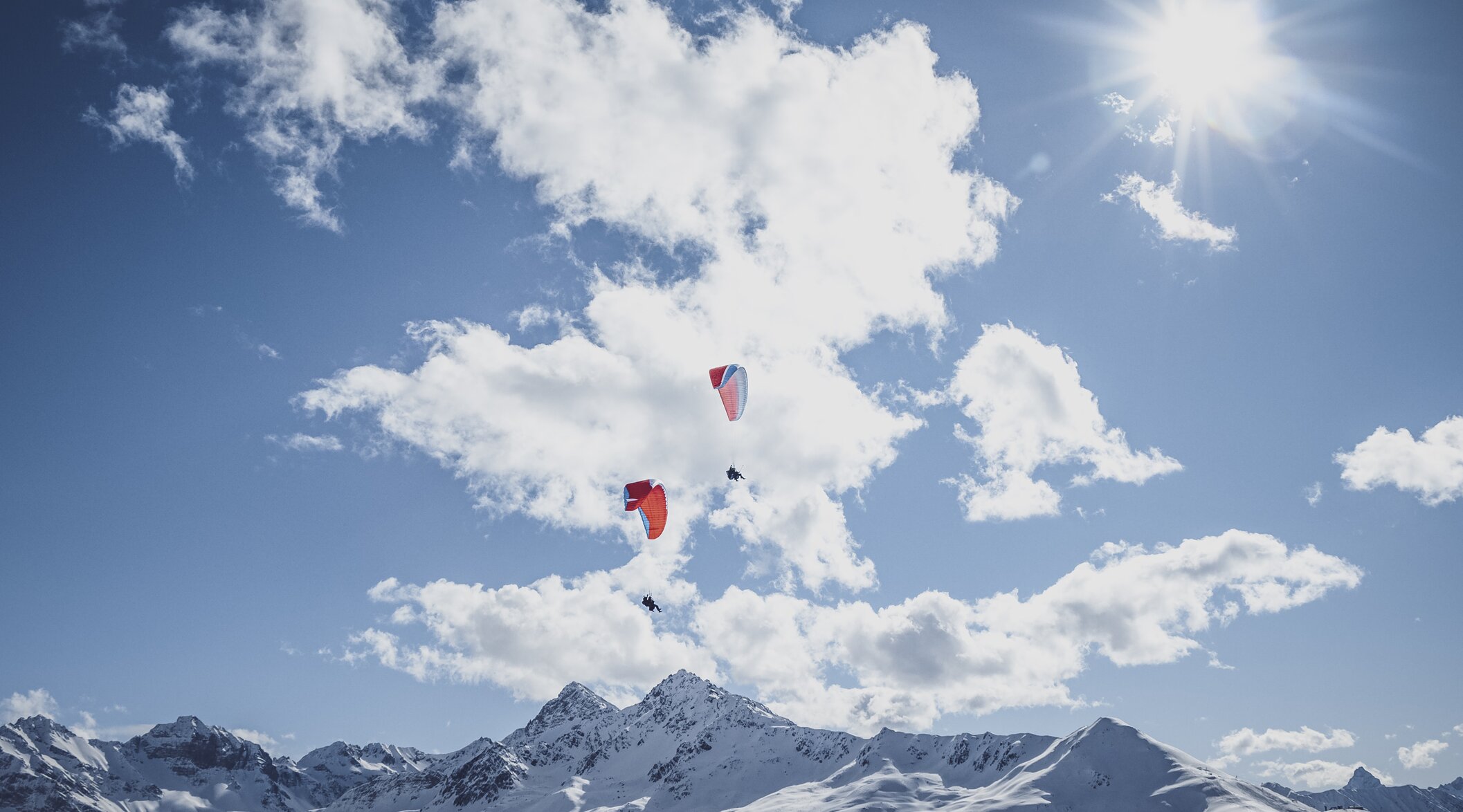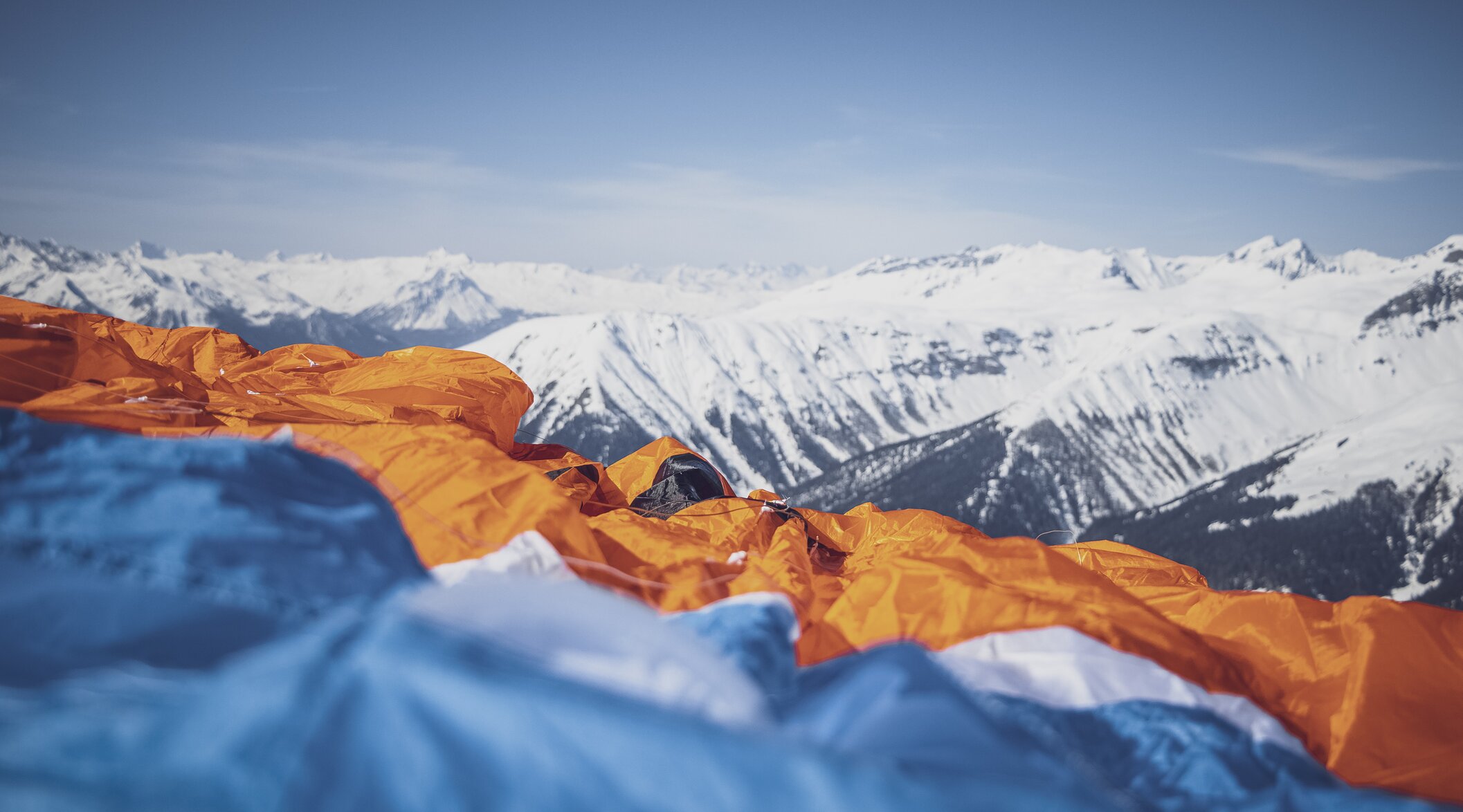 In the mountains, valleys, and up in the air!
Depending on the weather, the conditions at the starting points can vary considerably. We do not assume any liability for the accuracy and completeness of the information provided. If you decide to go paragliding, you do so at your own risk. Please pay attention to the prevailing conditions in the mountains! Appropriate self-assessment of your own abilities, thorough preparation, and obtaining information from local professionals is mandatory.
When starting and landing, you must consider your surroundings and watch out for other mountain athletes. We do not assume any liability in these cases either.