Skiing and
snowboarding
Adventures in the swiss mountains
Every day, our motivated employees take care of the preparations for unique winter experiences in the snow. As a winter sports enthusiast, you can choose from 253 kilometres of perfectly groomed slopes, 81 secured runs and five different ski resorts in Davos Klosters Mountains. From blue (easy) to red (medium), black (difficult) and black/yellow (freeride), there is something for every taste and every type of skier.
Fast skiers who want to feel the airflow in their face as they swoosh down the slopes. Leisurely skiers and snowboarders who particularly appreciate being surrounded by a beautiful mountain landscape with plenty of sunshine. And freeriders who prefer to ski downhill through deep powder snow. Snow sports fans are bound to find the perfect downhill run in the mountains of Davos Klosters!
253 km slopes
The perfect experience for everyone
With 81 different downhill runs and other winter attractions, Davos Klosters Mountains has a lot to offer for winter sports fans. In addition to the pleasure of whooshing down the slopes, they can also look forward to plenty of culinary delights, cosy get-togethers, sunbathing, and après-ski.
A large selection of different slopes, from blue to black, is a convincing asset of Davos Klosters Mountains. For experienced skiers, we recommend the steep slopes on Jakobshorn Nord, Bräma (black/red) or Gipfel Nord on Parsenn. That's where you can test and finetune your skiing skills.
Guaranteed snow from November to April: Thanks to the region's elevation at more than 1,560 metres above sea level and constant investments in artificial snow-making equipment, skiers and snowboarders benefit from guaranteed snow from November to April. So nothing stands in the way of winter fun, and the slopes are always in tip-top shape!
Good to know: Every ski resort in Davos Klosters Mountains has a downhill run all the way into the valley. From Jakobshorn and Parsenn, you can ski directly to the town centre. It hardly gets more convenient! The valley runs are usually open from December to April when snow conditions are good, which means you can ski into the valley all winter long.
Freestylers will find a perfect terrain for adrenaline rushes at the JatzPark. The Jakobshorn is the centre for all those who love freestyling!
Alongside perfectly groomed slopes for skiers and snowboarders, there are also several secured but ungroomed slopes, which can be used by freeriders when open. On Pischa, there are no groomed slopes on the entire mountain. This was a deliberate choice, so winter sports enthusiasts can enjoy their adventures in pristine powder snow surrounded only by nature.
5 mountains
Long slopes, events, cosiness and much more ...
Nighttime skiing
on Rinerhorn
Imagine the following winter scenario: Freshly groomed slopes, moonlight, and you're smack in the middle going nighttime skiing or snowboarding. That's an experience you can enjoy on Wednesday and Friday evening all throughout winter season up on Rinerhorn. The Rinerhorn cable car takes you up the mountain from 19:00 to 22:30, and the floodlit valley run is open during this time as well.
If you're in the mood for tasty culinary delights, you should visit Jatzmeder restaurant by the mountain station, Spina along the valley run or the Blockhuus at the valley station.
Our tip: On Wednesday evening, Jatzmeder restaurant offers its legendary spaghetti buffet – perfect for families or school classes and a highlight during every holiday week! A more romantic alternative is the candle-light raclette or fondue every Friday night.
Die Skipiste «1k Vertical Jakobshorn» ist das neue Highlight der Wintersaison 2023/24. Die brandneue Talabfahrt auf dem Jakobshorn führt Skifans vom Restaurant Fuxägufer direkt ins Bolgenareal.
Mit dem Start auf dem Gipfel Jakobshorn ermöglicht die Talabfahrt eine rasante Abfahrt, die 1000 Höhenmeter überwindet. Ganz nach dem Motto «1k Vertical» erleben geübte Skifahrer und Snowboarder ein packendes Pistenvergnügen vom Gipfel bis ins Tal!
Die Nummer 42 auf dem Pistenplan verspricht ein herausforderndes Pistenerlebnis. In der Kombination mit der bestehenden Talabfahrt Gämpen erleben Anfänger als auch erfahrene Skifahrer einen unvergesslichen Skitag bis zur letzten Abfahrt!
Feel the adrenaline rushing through your veins as you stand at the start of the Raiffeisen Run like Wendy Holdener or Daniel Yule! In a few seconds, you'll be swooshing around the giant slalom gates as fast as possible. On Jakobshorn, you can give a traditional giant slalom a try. The course is located below the mountain station of the Clavadeler Bubble chairlift.
By the way: On Parsenn, there is a traditional giant slalom including time measurements, which is located right next to the downhill run number 4 Weissfluhjoch – Höhenweg.
On top: You can compete with your friends and achieve your personal best time.
Nordica speed run
on Parsenn
Skiing or snowboarding on freshly groomed slopes is tons of fun. However, it's not always that easy to estimate how fast you are going.
The Nordica Speed Run to the left of the Standard Number 4 downhill run on Parsenn takes care of that for you. Thanks to accurate time measurements, you can find out how fast you are and race your friends at the same time. Who's the fastest at downhill skiing? Who's the first one at the finish line? You'll also get a souvenir photo taken, which you can download afterwards. Simply scan your ski pass at the start hut and hurl yourself down the run!
Ski Challenge
Davos Klosters
Do you want to discover the most spectacular and beautiful slopes of the Davos Klosters Mountains? You also want to learn more about the insider routes of the locals? Then we know the perfect challenge for you!
The Ski Challenge Davos Klosters is a day tour and includes the most beautiful ski slopes of the region. It combines our ski areas into a unique day experience and takes you on a spectacular tour of the region. Simply set off, answer the questions correctly and pick up your Ski Challenge gift at the end by knowing the correct answer.
Good to know: When you buy a regional ski pass, the public transport between the ski areas is included. On the Ski Challenge Route you will find numerous restaurants for a snack.
Find out about the pioneering role of Parsenn and the development of skiing in Switzerland! On the 12-kilometre Nostalgia Run from Weissfluh's summit to Küblis you can learn exciting details about the history of winter sports on various information boards along the route. What's more, you'll also read about the construction of the Parsenn funicular, slope-grooming, and the legendary Parsenn Derby. The interesting descriptions come illustrated with lots of fascinating pictures. A highlight for mountains fans of all ages!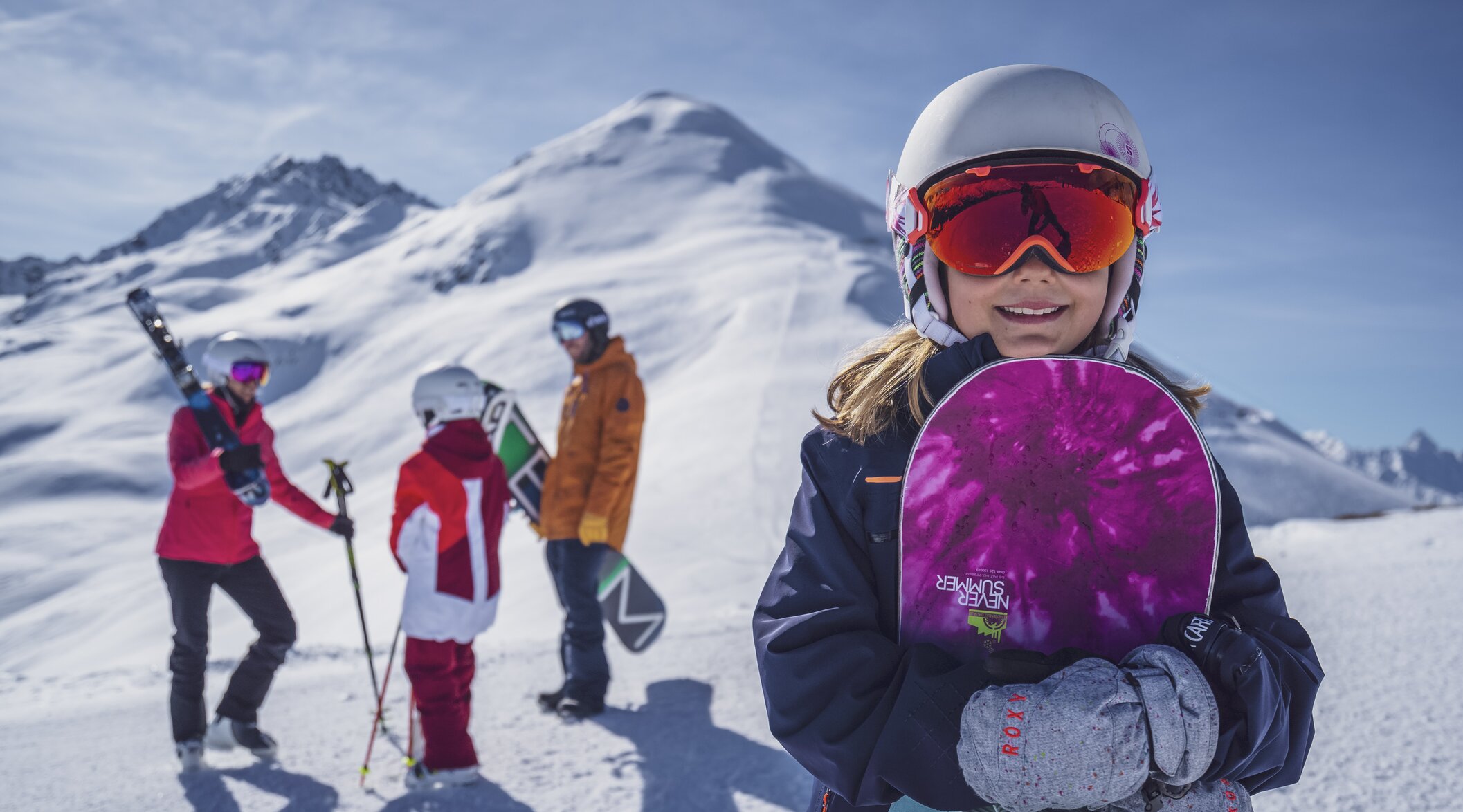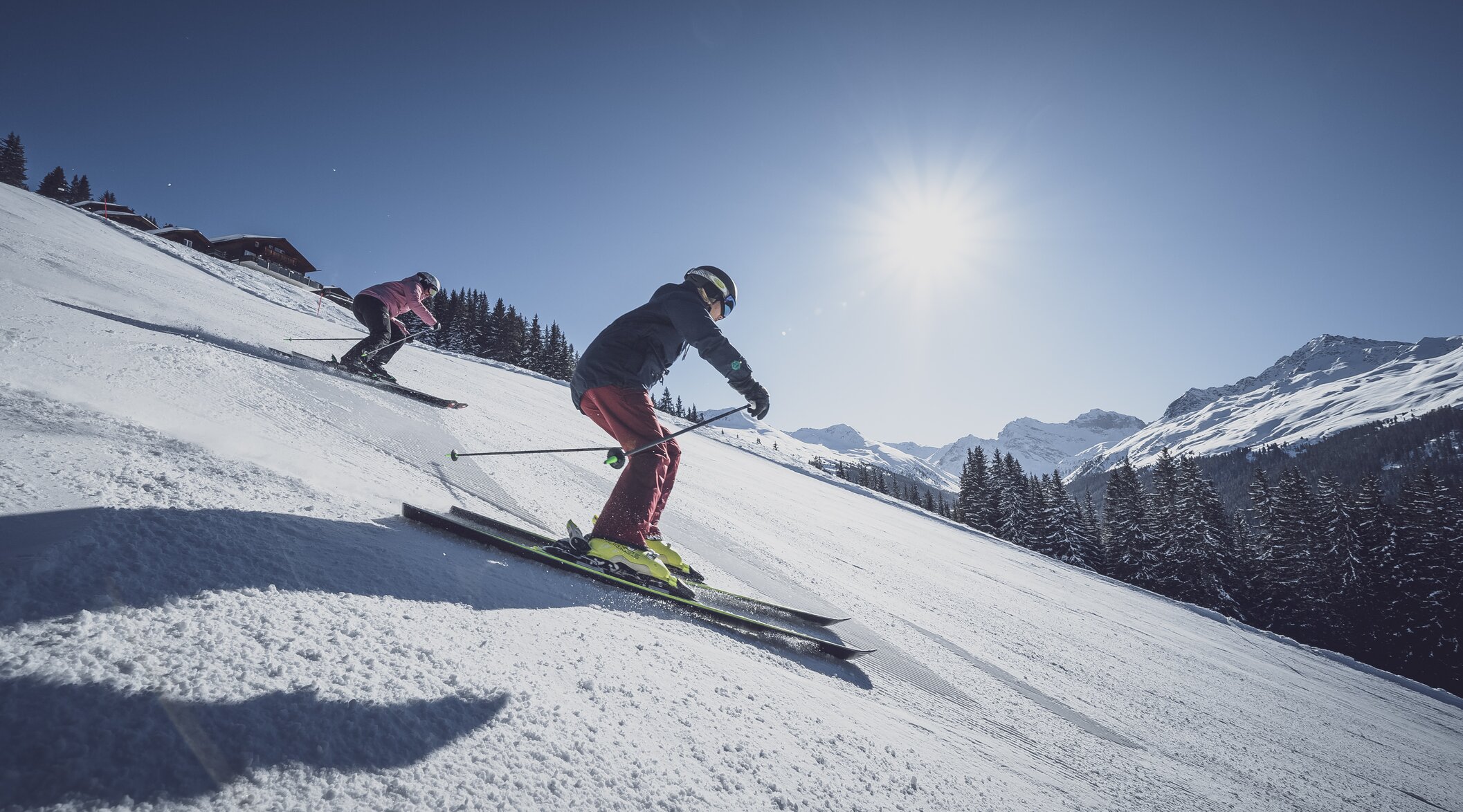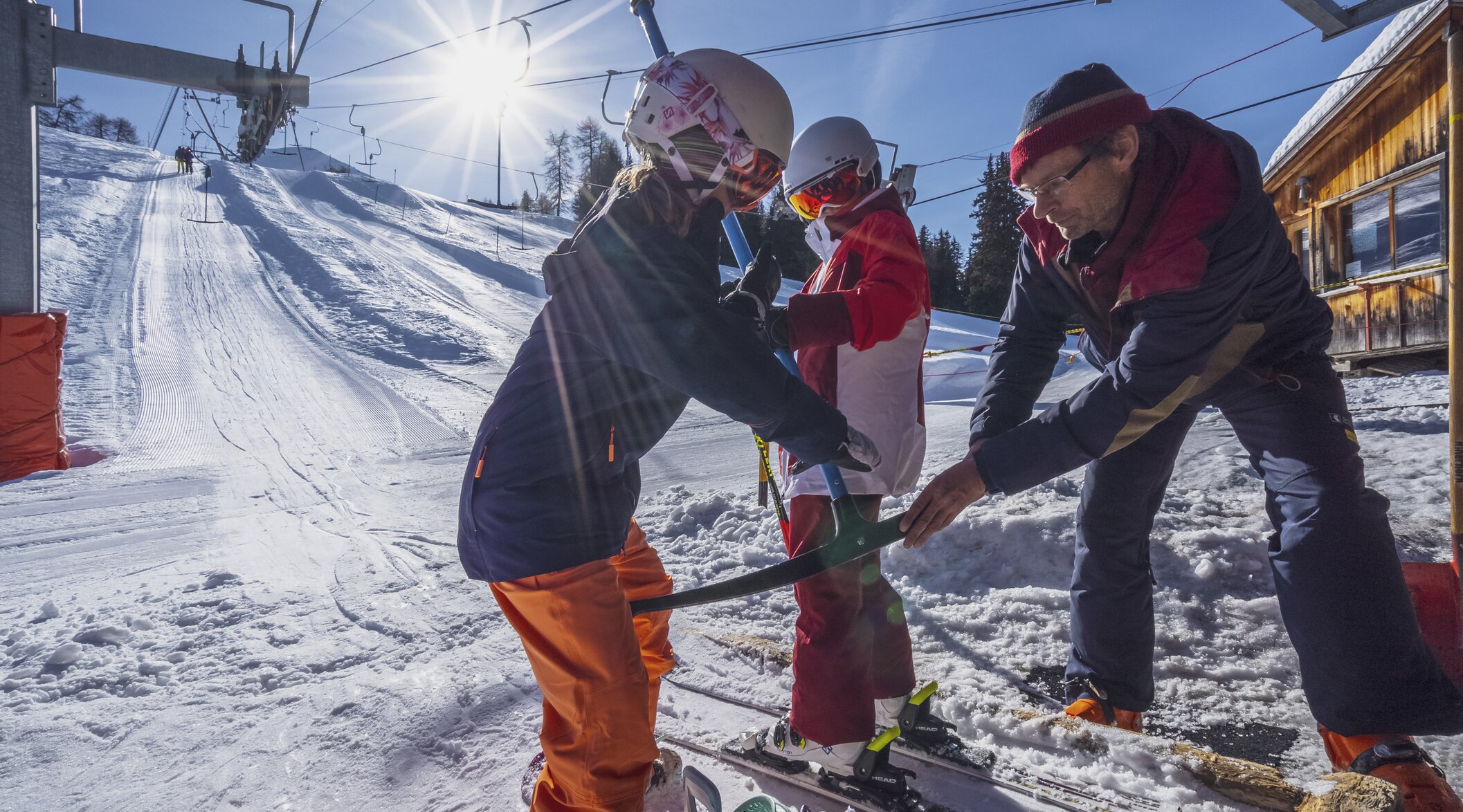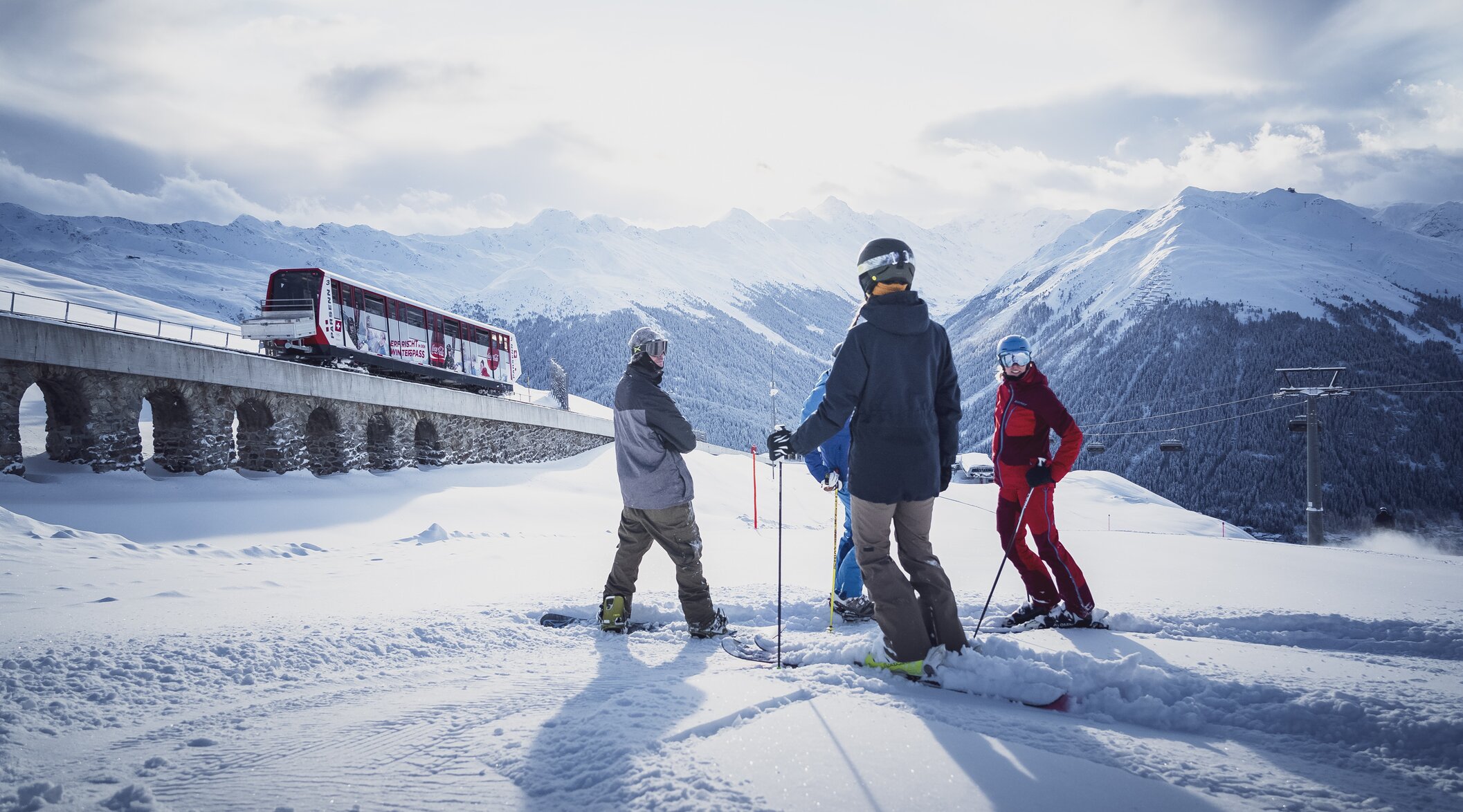 Accommodations
for skiers & snowboarders
The Mountain Hotels and Resorts are the perfect accommodation for all skiers and snowboarders who want to stay close to the slopes and near the town's centre. And the best part: If you book your stay and you already have a ski pass, you benefit from attractive offers at the Mountain Hotels including a discount on your accommodation expenses.
A great ski day not only includes first-rate slopes, but also tasty refreshments and culinary delights at one of the mountain restaurants. In Davos Klosters Mountains, you'll find the perfect location for every taste – whether you prefer regional, home-style food or hearty meals, such as burgers and pizza. Every menu contains an insider's tip. Because at the mountain restaurants in the Grisons mountains, culinary pleasure and hospitality take centre stage.