Waldhuus Davos
the cosy, chalet-style hotel
Fresh air, nature and the beauty of the Grisons mountains: that's all it takes to leave the concerns of everyday life behind and switch off. The Hotel Waldhuus in Davos is the ideal place for vacations and relaxation. Enjoy homely comfort and many amenities in the cozy 108 rooms and suites. The Hotel Waldhuus Davos is unique! Varied cross-country skiing tours, winter hikes or skiing experiences in the snow await you.
COMPLETION OF THE RENOVATION
NEWS AFTER THE RECONSTRUCTION
In the last few months, new rooms have been created in the main house in the course of the addition of new floors. In addition, parts of the Hotel Waldhuus Davos have been completely renovated. You can expect a lot of new things in the rooms, the hotel lobby, the new fitness room or the wellness & spa:
From about August 2023, a new 9-hole mini golf course, as well as a playground will be available for guests.
All rooms in the hotel shine in a new design. The existing charm of the rooms and the warm character of the hotel were complemented with new accents.
The wellness and spa area was complemented by various new elements, such as a new Finnish sauna, an ice fountain and a heat bench. The modern relaxation room invites you to rest after a herbal or bio sauna. The indoor pool shines in new splendor with a new coat of paint and an overall design.
The ski room with its new design is a highlight for all ski fans! For the guests there is now a heated locker for the boots and equipment.
Sports enthusiasts will love the spacious fitness room with lots of natural light and new equipment from TechnoGym.
There are many new things to discover. We are already looking forward to your visit!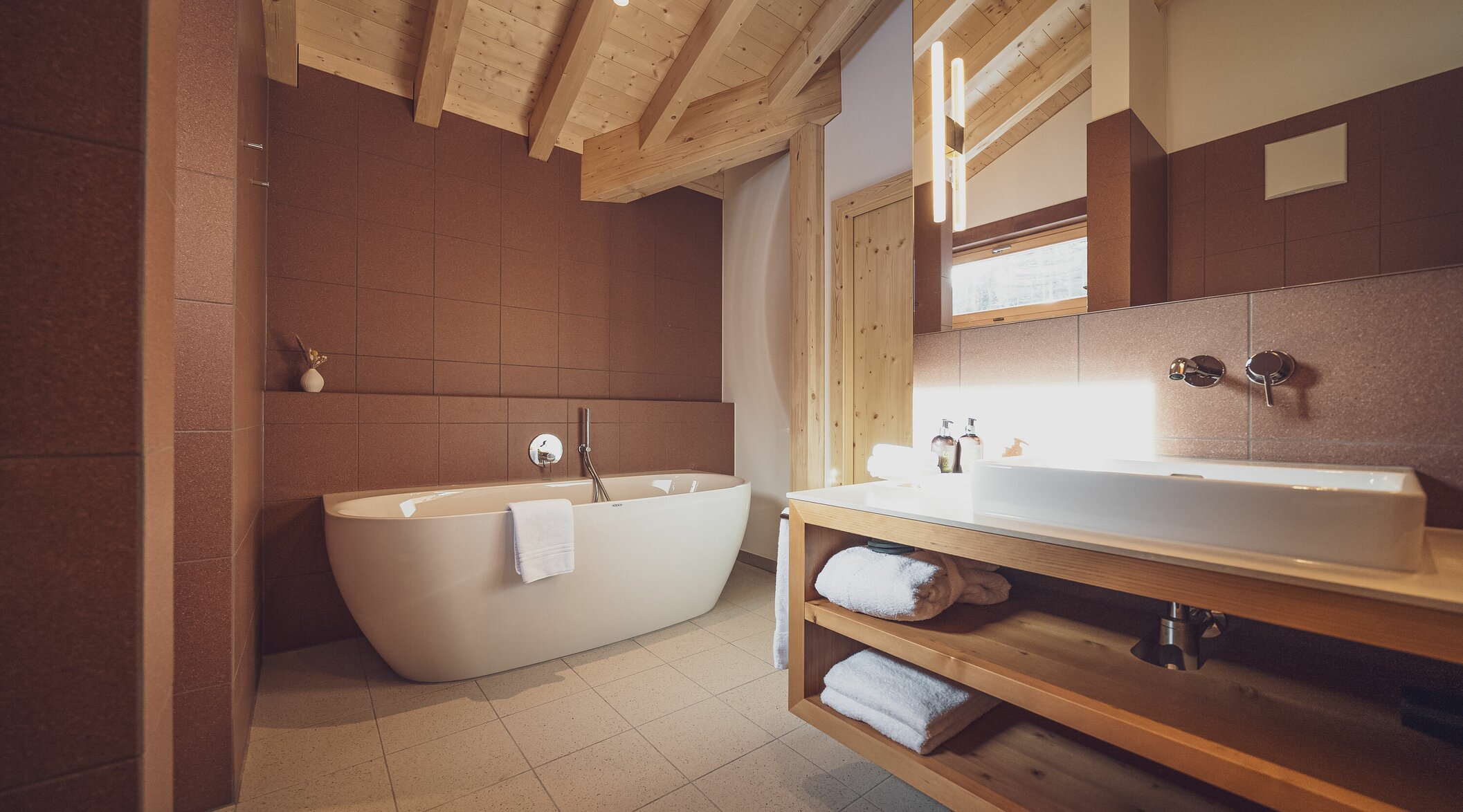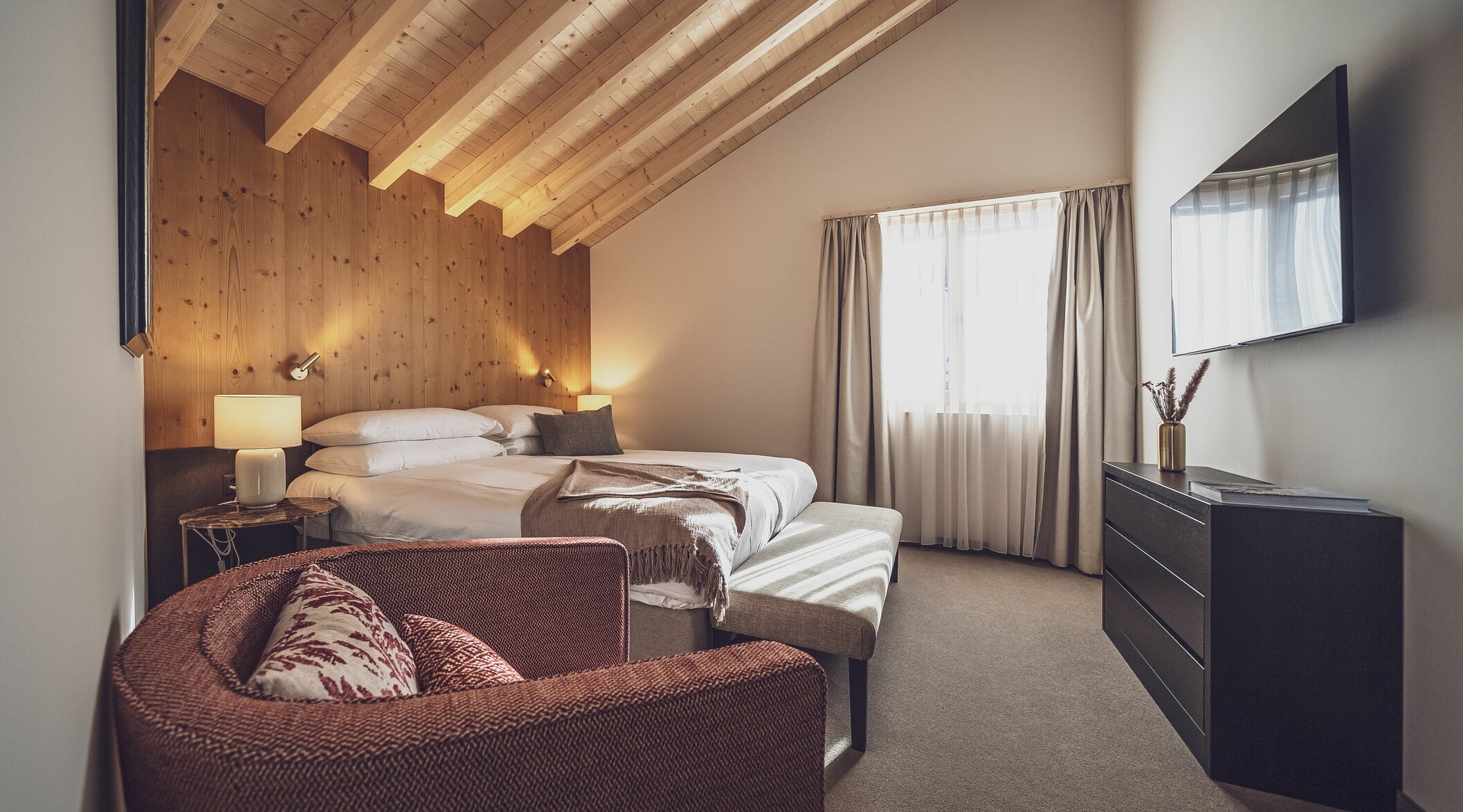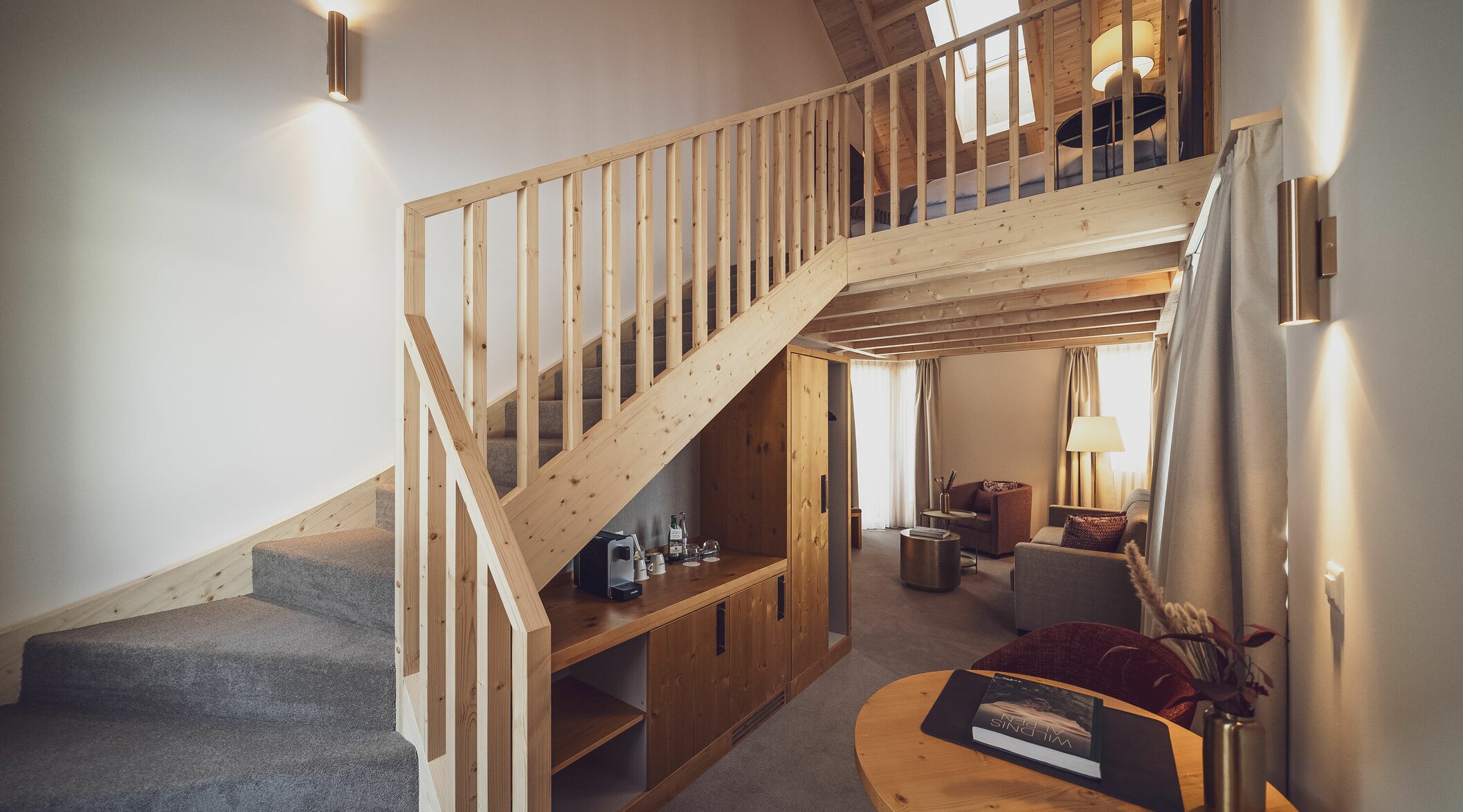 Welcome
At Hotel Waldhuus Davos
For more than 30 years, Hotel Waldhuus has been a jewel adorning the edge of beautiful Matta Forest in Davos. Built in chalet style with lots of regional wood, it blends in perfectly with the surrounding landscape. The golf house – with 60 new rooms and suites – was built in 2002. The new building was modelled in the style of the older part, and both buildings are connected via the lobby. In April 2019, the hotel was bought by Davos Klosters Bergbahnen AG, and it will continue to be run as a 4-star superior hotel under the "Mountain Resorts" brand. The renovation and constructions in 2021/22 added nine more rooms to the residence.
Your host Linda Stag
Swedish-born Linda Stag has already come a long way. She began her career in Sweden, spent several years in Portugal, and then ended up in Switzerland. With her talent for languages and her open and cheerful personality, she is very popular with guests and employees. Linda Stag has been working at Hotel Waldhuus in Davos for over seven years now. Initially, she took up the position of front office manager. In June 2019, she became the hotel's manager.
Hotel Waldhuus
at a glance
Four-star superior chalet-style hotel
108 rooms and suites
The Waldhuus restaurant for wonderful culinary experiences
A spacious spa with indoor pool and massages
The Globi Kids Club with childcare
Located right next to the 18-hole Davos golf course and the cross-country ski trail network
With shuttle bus to the local ski resorts
Five seminar rooms for conferences and events
Popular location for weddings and celebrations
Garage with parking spaces and electric chargers (for a surcharge)
24-hour reception desk
Large balconies with a view of the surrounding mountains
Cozyness at Hotel Waldhuus
The Hotel Waldhuus impresses with its special chalet character. It is the right choice for a longer stay. Different offers and services make your trip unique and let you relax from daily life.
Perfect for ...
Families, sports enthusiasts and seminars
A unique location in the middle of the Grisons mountains directly at the 18-hole golf course and in immediate vicinity of the cross-country ski trail: Hotel Waldhuus is your home away from home in the beautiful Davos mountains. Add to that a heaping scoop of heartfelt hospitality by the entire staff. The Hotel Waldhuus with its 108 rooms and suites offers everything a holidaymaker's heart desires. We are committed to making your stay as enjoyable as possible – please let us know if there is anything we can do for you!
The services at a glance
108 rooms
The choice of rooms at Hotel Waldhuus Davos is extensive, so every guest will find a suitable room. The 108 rooms fulfil all needs and wishes.
Good to know: If you book a family room, two children up to 16 years of age get to stay in the same room with you free of charge. It hardly gets more budget-friendly! There are also attractive deals and offers for skiers and snowboarders, including ski pass.
Culinary offers
At the restaurant of Hotel Waldhuus, you'll enjoy your daily breakfast as well as dinner – the so-called "Capricorn Menu". The best location for an aperitif is the Matta Bar with its gently crackling, open fireplace.
Guest ratings
We would like to thank every guest for their honest feedback! Take a look at an overview of the latest guest ratings!
Special offers
At Hotel Waldhuus you benefit from attractive offers. Whether for golfers with green fee in summer or for cross-country skiers and skiers including ski pass in winter. Discover the offers with one click!